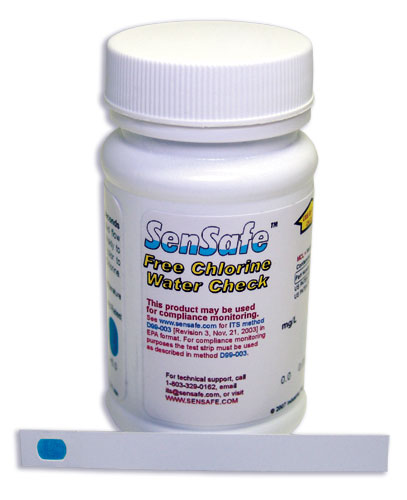 Looking for the best at-home drinking water testing products around? The following drinking water test kits for free chlorine, dissolved arsenic, and heavy metals in drinking water.
Use the search box below to find more information about water testing, products for water testing, products to filter drinking water, products for pool water, and more:
The links below will take you to other water quality and drinking water quality web sites:
Fact #1 -- Water leaving a water treatment facility will (usually) contain no harmful impurities... but after travelling through miles of pipe and the plumbing in your home, it had plenty of time to pick up contaminants along the way.

Fact #2 -- Heavy rains, periods of drought, unusually high demands on the aquifer, and a host of other things can radically affect the quality of water pulled from a well.

So whether you have city water or get your drinking water from a well, you have plenty of good reason to test the quality of your water on a regular basis.
Below you will find the most recent entries from the Water Testing Blog, a site which provides information about water test kits, water quality testing information, water quality issues and drinking water filters.
Recent Updates on the Water Testing Blog
Save 10% for the Holidays? YES! -- Merry Christmas and Happy Holidays to EVERYone that has helped make 2019 a GREAT year for us at the Water Test Kit Store!  Merry Christmas and Happy Holidays to EVERYone that hasn't helped make 2019 a GREAT year for us at the Wat...... read more

posted 12/05/2019
Save 10% for the Holidays? YES! -- Merry Christmas and Happy Holidays to EVERYone that has helped make 2019 a GREAT year for us at the Water Test Kit Store!  Merry Christmas and Happy Holidays to EVERYone that hasn't helped make 2019 a GREAT year for us at the Wat...... read more

posted 12/05/2019
Wash your hands, ya' dirty cretins! :P -- Oh, the number of times I've said right before my kids sit down at the dinner table.... "Go wash your hands, please." Then with dejected looks on their faces they slink off to the bathroom to do what they should have already done in the first place....... read more

posted 11/19/2019
Wash your hands, ya' dirty cretins! :P -- Oh, the number of times I've said right before my kids sit down at the dinner table.... "Go wash your hands, please." Then with dejected looks on their faces they slink off to the bathroom to do what they should have already done in the first place....... read more

posted 11/19/2019
Inline Water Filter? What's That? -- There are lots of types of filters out there that you can buy and surprisingly we get the most questions about inline water filters, sometimes written as in-line water filters, because people have the misconception that inline means 'reall...... read more

posted 09/18/2019
Inline Water Filter? What's That? -- There are lots of types of filters out there that you can buy and surprisingly we get the most questions about inline water filters, sometimes written as in-line water filters, because people have the misconception that inline means 'reall...... read more

posted 09/18/2019